Dive Brief:
Amazon on Thursday said that fourth quarter net sales rose 20% to $72.4 billion from $60.5 billion in the year-ago quarter; North America net sales rose 18% to $44.1 billion. Services sales rises overshadowed product net sales growth, as subscriptions rose 25% to $3.96 billion, "other" (mostly advertising, according to executives) rose 95% to $3.39 billion and AWS cloud computing sales rose 45% to $7.43 billion.
Third-party sales (up 27% to $13.38 billion) grew faster than first-party sales, according to a company press release. Online stores net sales in the quarter grew 13% year over year to $39.8 billion as physical store sales fell 3% to $4.4 billion, the company also said in its release (although CFO Brian Olsavsky clarified to analysts that an "apples to apples" comparison, taking into account omnichannel sales that are counted as e-commerce and a calendar shift, would bring brick-and-mortar sales up to a 6% rise).
Operating income in the quarter rose to $3.79 billion from $2.13 billion last year, as net income increased to $3.03 billion in the fourth quarter from $1.86 billion in the same period last year.
Dive Insight:
It's getting more difficult to perceive Amazon as a retailer. The company's retail muscle is flexing more in delivery, fulfillment and sales of its own devices, while sales growth in its marketplace (where it's emphasizing small and medium sellers) and its many services continue to outpace sales through its own channel.
Olsavsky, addressing analysts during a conference call on Thursday, demonstrated how the company sees its retail operation circling back to aid its own ecosystem when he said, after noting that AWS, third party units and advertising sales are growing well: "Retail was very strong" the Echo Dot was the highest selling unit globally."
Amazon has long been widely seen as a tech company as much as a retailer, and that may be more true than ever it's just that there are more services added into the mix.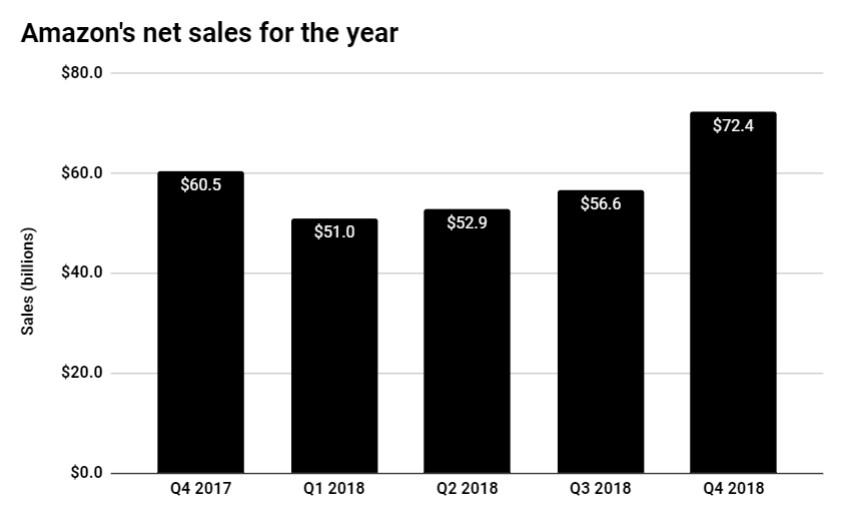 "While I don't think Amazon is abandoning retail and that it will continue to grow that division, there is no doubt that services are becoming more important," GlobalData Retail Managing Director Neil Saunders told Retail Dive in an interview. "This is especially so from a profit perspective. Amazon has a huge amount of customer data and a phenomenal platform and ecosystem that allows them to reach consumers. They are also adding in more elements to that reach, including home delivery. It is only logical that Amazon monetizes this asset by offering services to both consumers and other business."
But Amazon is facing new challenges as a retailer as well, Saunders said. Its maturity at more than two decades old (naturally tamping down the rapidity of initial growth), plus great strides taken by rivals, are pressuring sales, he noted in other comments emailed to Retail Dive, adding that its Whole Foods consumer-facing operations leave much to be desired, with lackluster stores at the holidays.
"Retailers like Target and Walmart have invested heavily in their online operations and pulled out all the stops this holiday season," he said. "Our data show that they made solid customer gains, and some of that dinted Amazon's growth. In our view, the gap between Amazon and the rest is now narrowing."
As its retail growth ....